Studierstube - A Collaborative Augmented Reality System
Research project in the area of Virtual and Augmented Reality.
Keywords: Studierstube, Augmented Reality, Distributed Systems, User Interfaces.
About this Project
Studierstube is the study room where Goethe's famous character, Faust, tries to acquire knowledge and enlightenment. We chose this term as the working title for our efforts to develop user interfaces for future work environments based on collaborative augmented reality.
Project Partners
Vienna University of Technology (Austria), VRVis Research Center for Virtual Reality and Visualization (Austria), Graz University of Technology (Austria), Fraunhofer Center for Research in Computer Graphics (Providence, Rhode Island, USA), Fraunhofer Institut für Graphische Datenverarbeitung (Darmstadt und Rostock, Germany), University of Tübingen (Germany), Human Interface Technology Lab, University of Washington (Seattle, Washington, USA)
Funding provided by
Austrian Science Foundation under contract no. P-12074-MAT
Additional Information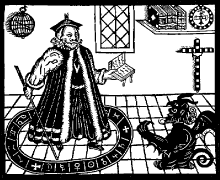 Most virtual reality systems of today are tailored to the needs of a single very specific application and highly specialized for that purpose. In contrast, in the Studierstube project we try to address the question of how to use three-dimensional interaction and new media in a general work environment, where a variety of tasks are carried out simultaneously. In essence, we are searching for an 3D interaction metaphor as powerful as the desktop metaphor for 2D. At the heart of the Studierstube system, we use collaborative augmented reality to embed computer generated images into the real work environment. Augmented reality uses see-through head-mounted displays to overlay computer graphics onto a user's view of the real world. However, we have also added support for other display techniques such as the Virtual Table or stereo projection wall to allow for other forms of bringing computer graphics into the work environment. By allowing multiple users to share the same virtual environment, we enable computer supported cooperative work on Studierstube.
Project Website
For more information, please visit the project website: